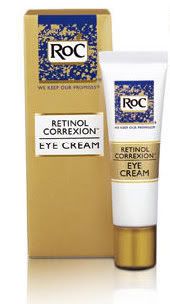 Target Area(s): Fine lines, skin texture and wrinkles – Used as a night cream
Guarantee: Depends on the store
Most effective for:
Easy to use
Minimizing wrinkles
Evening out skin tone
Improving skin texture

Other positive review:

I have been using this for over 6 weeks, day and night. I have noticed a big difference in my wrinkles and dark circle. My skin is even out and someone even commented that I look less tired. I also have contact lenses and have no problem with them.
Other factors to consider:
Dries out skin
Greasy I have used the cream

Other negative reviews:

I have used the cream version of this product and thought I would try the serum. After a week I started to break out from it. Could be from whatever fragrance they put into it. Weird smell. Stopped using it and the pimples went away.
Description: Being awarded as the best eye cream under $20.00 during the 2006 CEW Beauty awards, this eye cream raised a lot of expectations. From its official site, it promises to: "brings the #1 anti-wrinkle cream in France to the U.S. RETINOL CORREXION® Deep Wrinkle Night Cream, a breakthrough treatment clinically proven to give 10 years back to the look of your skin."
Majority of the users agree with its effectivity in the reduction of fine lines. It also has other pleasant effects with the overall improvement of the skin around the eye area, giving the eyes a more "awake" look.
Directions for Use: Apply a small amount to each eye morning and night, rubbing it in gently and allowing it to sink in before applying make up on top
Ingredients: Acrylates , C10-30 Alkyl Acrylate Crosspolymer , Ascorbic Acid , BHA , BHT , Butylene Glycol , Butyrospermum Parkii Extract Shea Butter , C12-15 Alkyl Benzoate , Caprylyl Glycol , Carbomer , Cetearyl Ethylhexanoate , Cetyl Alcohol , Cetyl Palmitate , Chlorhexidine Digluconate , Copper Gluconate , Cyclomethicone
Sunscreen: None
JEN says: A great wrinkle eye cream for fine lines. For other eye problems such as dark circles and baggy eyes, you may want to check out other options and read St. Ives Cucumber Elastin Stress Gel review and Dr. Hasuchka Eye Contour Day Balm review for equally effective products that falls within the same price range.
Read more about RoC Retinol Correxion Eye Cream >>>
Sincerely,