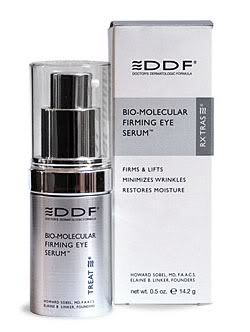 Target Area(s): Fine lines – Used as a day and night cream
Guarantee: None
Most effective for:
Hydrating the skin
Soothing the skin
Moisturizing under make-up
Other positive review:
There is definitely an instant lift and I think over time, the crows feet have softened. I have very dry skin so I use it in conjunction with Jan Marini Transformation Eye Cream and the two work wonders.
Other factors to consider:
Causes painful side effects for some
Not ideal for sensitive skin
Does not get rid of dark circles
Other negative reviews:
I was hopeful in trying this product,as I have alot of deep wrinkles,crows feet, and abused the sun in my younger years. I wasn't expecting miracles, but for the price I was sure I would get results. Unfortunately because of my sensitive skin, I didn't get to try it for very long, and exchanged for a different product.
Description: DDF's Bio-Molecular Firming Eye Serum™ is a technologically and scientifically advanced eye formulation with a complex of growth factors and proteins composed of cell signaling factors capable of stimulating important rejuvenating functions. Works to promote visible firmness and tone in the delicate eye area, as well as smoothes fine lines and wrinkles.
Directions for Use: Gently pat with fingertips under and over eye area. May be used day and night, with or without make-up.
Ingredients: Water, Aloe Barbadensis Leaf Extract, Glycerin, Dimethicone, Hexapeptide-3, Ethylhexyl Palmitate, Glyceryl Stearate, Propylene Glycol, Squalane, Caprylic/Capric Triglyceride, Peg-100 Stearate, Stearyl Alcohol, Polysorbate 80, Cetyl Alcohol, Stearic Acid, Petrolatum, Magnesium Ascorbyl Phosphate (Vit. C), Hydroxyethylcellulose, Acrylates/10-30 Alkyl Acrylate Crosspolymer, Sodium Hyaluronate, Cafe silane, (milk growth factors and peptides), Yeast Ferment Extract, Triticum Vulgare (Wheat) Protein E
Sunscreen: None
JEN says: DDF definitely has its share in the eye cream market. They have plenty of products that have established their own name in the skin care industry. This particular cream, is one of the surprises when it comes to consistency and effectivity. For a light cream, it feels really creamy. It also works well under make up. I would say this product is ideal for women on the go with wrinkle problems. For other skin problems like dark circles and baggy eyes, you may want to use some other effective eye creams which would target those problems.
You can read another DDF eye cream review or see the best eye cream on our reviews page.
Sincerely,