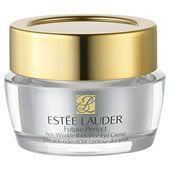 Target Area(s): Eye wrinkles and puffiness- Used as a day and night cream
Guarantee: Depends on the store
Most effective for:
Reducing the appearance of puffy eyes
Other positive review:
" My husband bought this eye cream because his under eye area was dry and little lines were forming too soon. Within a month we both were surprised how the tiny lines had vanished and his eye area looked soft. I use it myself and I like it too. Really good product! "
Other factors to consider:
Has minimal effects for fine lines
Expensive
Has not worked for a few who have tried it
Does not work as well for women over 30
Other negative reviews:
I use other products from Estee Lauder and I thouht I'd try this one, but it didn't meet my expectations. It's a good cream but it's not worth the money, you can buy similar products cheaper. I wouldn't recomand it to anyone above 30.
Description: Estee Lauder is one of the more expensive products in the beauty industry. Their eye cream, designed to remove blemishes and wrinkles, were described by the company as:
Estee Lauder Future Perfect Anti-Wrinkle Radiance Eye Cream: Significantly smoothes the look of your eye area with all the groundbreaking, targeted Cell Vector technology of Future Perfect face crèmes Smooth it on and instantly brighten the look of dark circles. Keep your skin perfectly hydrated Silky eye crème reduces the look of eye lines and wrinklesfast. You'll see a younger, more revitalized look return
Majority of women who used this found it effective for eye puffiness and fine lines but not for deeper wrinkles. The women who used this were also pleased by the light scent and by how effective it is in moisturizing and nourishing the skin. It's light and gentle formula makes it safe to use even for those with very sensitive skin. It's easily absorbed by the skin and looks really well under make up. However, it may not be as effective for women over 30, or women with very dry skin, since they need heavier creams with stronger moisturization.
Directions for Use: Dab a small amount under and around the eyes, morning and night.
Ingredients: Powerful antioxidants NDGA, Vitamin C and Siegesbeckia (a soothing and protective herb), which are delivered to the skin via Cell Vectors to help improve skin health and provide intense moisturizaion.
Sunscreen: None
JEN says: The perfect way to greet the new year, for the young, posh, and willing to spend a lot for their skin. This eye cream can provide them with the protection they need from premature aging. If you're suffering from more serious skin problems, you should try on a different eye cream.
Try on a different brand, check the Shisheido Eye cream review or get an idea of which are the best eye creams that you should try!
Sincerely,