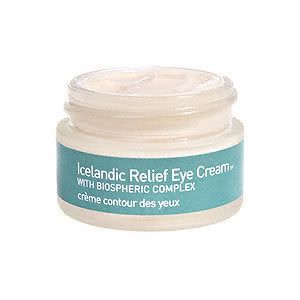 Target Area(s): Dark circles – Used as a day and night cream
Guarantee: 60 Day money back guarantee
Most effective for:
Dark Circles
Eye relaxation
Other factors to consider:
50/50 effectivity for consumers
Limited addressed skin problem
No sunscreen
Description: The first thing anyone would notice with Skyn Icelandic Relief Eye Cream is the cooling sensation when applying it on your skin. It's a cross between a gel and a cream, so it might feel weird at first but it feels really refreshing and it actually works.
This cream doesn't have any day or night specifications, so you can use it any time of the day. It also has a 50/50 reputation; working for some of its users, but equally ineffective for some. It mostly works on dark circles and nothing else; making it not worth the price. I would expect more results considering how much this eye cream costs.
Directions for Use: Apply twice a day, in the morning and evening. Just pat evenly around the eye area.
Ingredients: Water, Isocetyl Stearate, Glyceryl Stearate SE, Glycerin, Hydrolyzed Rice Bran Protein, Caprylic/capric Triglyceride, Stearic Acid, Angelica Archangelica Root Water, Decyl Oleate, Dimethicone, PEG-6 Isostearate, Cetyl Alcohol, Triethanolamine, Phenoxyethanol, Caprylyl Glycol, Acrylates/C10-30 Alkyl Acrylate Crosspolymer, Aloe Barbadensis Leaf Juice, Gossypium Herbaceum(cotton), Hydrolyzed Wheat Protein, Disodium EDTA, Hydrogenated Vegetable Oil, Buddleja Davidii Extract, Thyme Extract, Menthyl Lactate, Hesperetin Laurate, Polygonum Fagopyrum Seed Extract, Propylene Glycol, Perfluorodecalin, Jojoba Seed Oil, Linoleic Acid, Alpha-linolenic Acid, Copper Sulfate, Oleic Acid, Calcium Carbonate, Magnesium Chloride, Potassium Chloride, Gold, Silver, Silica, PEG-75 Shea Butter Glycerides, Glycosphingolipids, Ascophyllum Nodosum Extract, Phytonadione, Cranberry Seed Oil, Rubus Chamaemorus Seed Oil, Xanthan Gum, Tocopherol, Tocotrienols, and Carotenoids
Sunscreen: None
JEN says: I wouldn't recommend this product. There are more eye creams out there that have the same effect or better at a lower price. If you prefer eye creams with jar packaging, you can check out Jan Marini Age Intervention review. It's not that effective however. For more options, see our complete list of eye cream reviews.
Read more about Icelandic Relief Eye Cream >>>
Sincerely,