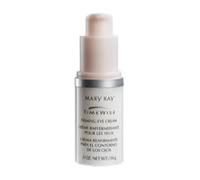 Target Area(s): Fine lines- Used as a day and night cream
Guarantee: Depends on the store
Most effective for:
Instant moisturizing
Minimizing fine lines
Other positive review:
I may have recently turned 37 but with this wonder firming eyecream I don't look a day over 30! I love it. It goes on easily and doesn't burn your eyes after the application. Best out there!
Other factors to consider:
Contains mineral oil
Causes milia for some of the users
Runs off with sweat
The pump has a tendency to clog up and the eye cream has a tendency to clump
Other negative reviews:
I did not like this product because I had the MK age fighting eye cream before and it did not compare to it. It didnt spread easily or make my eyes feel really moisturized. I definately liked the Age fighting cream much more. Plus the packaging is bad, every time I use it I have to push out about quarter of an inch of dried product and its just a waste!
Description:
Ninety-six percent saw an improvement in the overall appearance of the skin around their eyes.* Experience the results for yourself!

Just imagine a luxuriously rich eye cream so advanced it firms, brightens, provides intense moisturization, plus minimizes fine lines and wrinkles. With new TimeWise® Firming Eye Cream, you can have it all. It delivers more benefits for the younger-looking eyes you want to see.

*Based on a 12-week clinical study
… that, as described by their website. There are a good number of positive reviews that agree with this product advertisement, especially with regards to minimizing the eye wrinkles. Another good thing about this product is it is sold at a very competitive price. It costs only 12 dollars on Amazon for a .65 oz bottle, which is .15 oz more than the usual eye cream packaging. However, there may be a good reason for you'll need that extra cream. There were some women who have complained about the pump getting clogged up. Some There are some women who complained that the cream had a tendency to clump after several weeks of use.
Another issue is the mineral oil content in the eye cream, which in some cases can cause milia. It also has a tendency to run and irritate the eyes when perspiring.
Directions for Use: Dab around the eye area in the morning and evening.
Ingredients: Water, Petrolatum, Mineral oil, Stearic acid, Safflower seed oil, Grlycereth-26, Bis-diglyceryl Polyacyladipate-2, Clyceryl stearate, Triisostearyl, Trilonoleate, Propylene glycol, Glycerin, Isotridecyl stearate, Cetyl Alcohol, Triethanolamine, Strearyl alcohol, PEG-100 Stearate, Palmitoyl tetrapeptide-3, Palmitoyl oligopeptide, Dipalmitoyl hydroxyproline, Anthemix nobilis flower extract, Aloe Barbadensis leaf extract, TocopherolL, Panthenol, BUTYLENE Glycol
Sunscreen: None
JEN says: This is not one of the best eye creams we have reviewed in this site, but is still worth considering ecause of its effectiveness in reducing fine lines. What really pulled down my rating for this cream is the texture and the reports on its side effects. If you've tested this eye cream and you'renot happy with the results, check out other eye creams we reviewed like Kinerase Eye Cream review or Neutrogena Eye Cream review.
Sincerely,