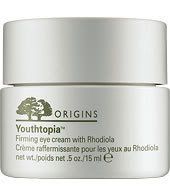 Target Area(s): Puffy and baggy eyes – Used as a night cream
Guarantee: Depends on Store
Most effective for:
Mature skin
Wearing under make up
Puffy and baggy eyes
Other factors to consider:
Causes break outs for some women
Herbal scent
Some women, specifically those with break outs do not notice changes with fine lines
Description: To start with the origins site information, "Now Origins looks to this genius of nature to create a Youthtopia™ Skin Firming Cream with Rhodiola and Skin Firming Lotion with Rhodiola. These patent-pending formulas help empower skin to rebound from damaging stress, retrieve its youthful buoyancy and reduce the look of lines and wrinkles. Plant Peptides and Vitamin C help enhance skin's natural collagen production. Buckbean Extract helps firm and lift the appearance of slack contours. And Sunflower and Barley rebuild skin's moisture barrier. Skin rallies, reanimates with a renewed radiance." This is one of the eye creams your friend has probably referred to you. Origins Youthtopia Skin Firming Cream gained a lot of popularity through word of mouth. It works well of mature skin, especially in removing puffiness around the eyes and tightening the skin around it. However, it doesn't work on crows feet as well as it claims and there have been numerous report of women having breakouts after using this product. The cream has a herbal scent which may be irritating for some and have been speculated to be a possible cause of the breakouts.
Directions for Use: Apply after cleansing face, in the morning and evening.
Ingredients: Rhodiola, plant peptides, vitamin C, barley, sunflower, and buckbean extract
Sunscreen: None
JEN says: This is a good eye cream for those eye area skin problems; after checking for irritation like breakouts, . Although not the best eye cream, it's a great anti-aging product. EyeDerma by Deramalogics review is a better and less expensive product in our reviews to check out.
Read more about Origins Youthtopia Skin Firming Cream with Rhodiola >>>
Sincerely,