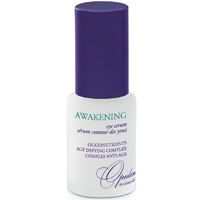 Target Area(s): Dark circles and fine lines – Used as a day cream
Guarantee: Depends on the store
Most effective for:
Improving skin texture
Lightening dark circles under the eyes
Reducing fine lines
Other factors to consider:
Not effective on overall skin improvement
Effects are temporary
Expensive
No sunscreen
Description: It's not the best cream in the market but it carries the same price tag of some of the best: $100. On the first few uses, it would seem like it's worth it. Women have noticed an instant change with the texture of their skin, making it appear healthier, lightening the dark circles, and making the fine lines look less visible. However, continuous application proved to be ineffective in making these results last.
Immediate results are great but women need results that last. But I have to agree that this is a good cream for women who need instant although temporary results likes before a big night out or the morning after a long, tiring night.
Directions for Use: Apply morning and evening around eye area. Upon initial application, you may experience a stinging sensation due to the absorption of ingredients.
Ingredients: Amino Acids – Arginine, Ergothioneine, Biologicals – Honey Extract, Yeast Extract Botanicals – Algae Extract, Apple Extract, Bamboo Extract, Bergamot Fruit Oil, Buckwheat Extract, Cabbage Rose Oil, Ginkgo Extract, Grape Leaf Extract Grape Seed Extract, Green Tea Extract, Hazel Bud Extract, Hops Extract, Jasmine Flower Wax, Lady's Thistle Extract, Lemon Fruit Extract, Lemon Leaf Oil, Narcissus Flower Wax, Orange Fruit Extract, Orange Oil, Palmarosa Oil, Passionflower Extract, Patchouli Oil, Pea Extract, Rice Bran Extract, Rosewood Wood Oil, Schizandra Extract, Sesame Extract, Spearmint Leaf Oil, Sugar Cane Extract,White Tea Extract, Willow Bark Extract, Ylang Ylang Oil Carbohydrates – Glucosamine HCl, Hesperidin Methyl Chalcone Enzymes – Oxido Reductases Essential Fatty Acids – Grape Seed Oil, Sunflower Seed Oil Naturally Derived Materials – Ceramide 2, Cholesterol, Squalane Peptides- Dipeptide-2, Palmitoyl Oligopeptide, Palmitoyl Tetrapeptide-3 Proteins – Extensin, Wheat Protein, Soybean Protein Vitamins – Substituted Vitamin C, Vitamin E Acetate
Sunscreen:None
JEN says: For immediate results, you might want to try this. However, judging from the overall effects and the price, its not worth buying compared to the other eye creams in the market. If you'd like to have more options, you can try browsing through Glytone Firm Eye Gel review or a cheaper eye cream Jan Marini Age Intervention Eye Cream review
Read more about Opulence Awakening Eye Serum>>>
Sincerely,